Become An Affiliate
Would you like to earn money as a reseller of our best-selling hypnosis and meditation recordings?
Read More...
Star Meditation - HD Video Download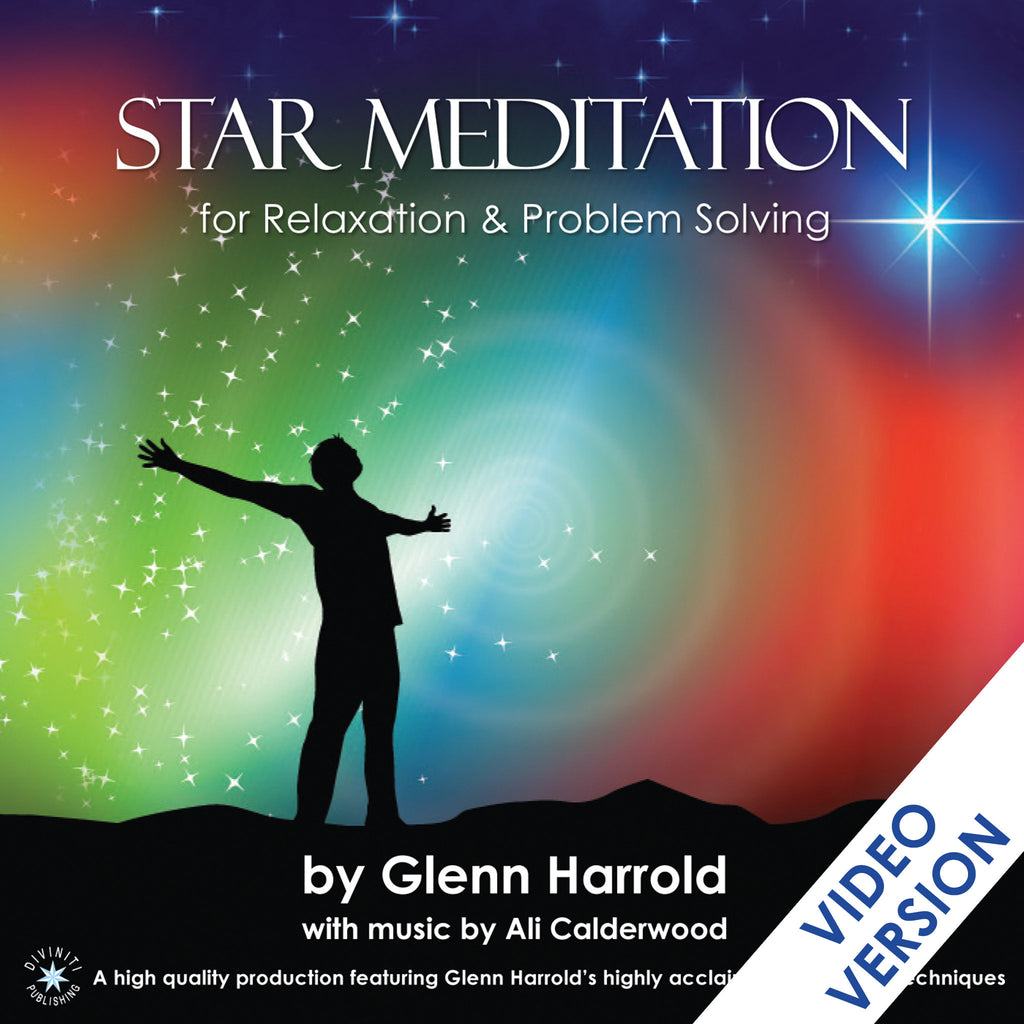 ---
This meditation video download includes:
1. Star Meditation High Definitition MP4 Video - 35:00 minutes
2. Star Meditation MP3 Audio (sleep ending) - 40:08 minutes
3. De-Stress - The 8 Golden Rules eBook
4. The Ultimate Guide to Self-Hypnosis eBook
Star Meditation - HD Video Download
This is a superb high quality subliminal meditation HD video by Glenn Harrold with music by Ali Calderwood. It is a higher perspective meditation which combines powerful visual and audio hypnotherapy techniques, flashing subliminal imagery and state of the art digital recording technology. This video also includes stunning artwork by Daniel Holeman. See a 12 minute sample below:
This guided meditation features Glenn Harrold's highly acclaimed vocal delivery and Ali Calderwood's beautiful moving background sounds, which work in perfect harmony with Glenn's vocal. With this powerful but gentle meditation you will float safely up to your star to a place of peace and tranquillity where you can view any problems or issues from a much higher perspective. By escaping from the pressures and distractions of everyday life your mind will feel clearer and peaceful and you will be empowered to find solutions. Star Meditation is based on an original script by Marie Williamson who is Glenn Harrold's Personal Assistant.
The magnetic healing quality of the music will draw you back to your centre of balance, allowing you to be in a deeper state of presence in your daily life. Within the music you will hear throat singing/chanting which has no actual translation, these sounds embody the energy of gratitude. This powerful recording is a completely safe and effective way of helping you to connect with yourself and find solutions to any problems or issues.
You can use 'Star Meditation' in two ways; as a stand alone audio track or with the accompanying video complete with visual subliminal imagery for a powerful waking meditation session. An audio only MP3 track is included with the download, allowing you to listen to just the audio on an MP3 player. The download also includes Glenn Harrold's ebook: De-Stress - The 8 Golden Rules.
The absorbing hypnotic visual imagery combined with the powerful meditation audio track create a very receptive state for absorbing suggestions. There are also a number of background echoed affirmations, which pan from left to right across the stereo range. These deeply soothing and potent methods of delivering multiple suggestions simultaneously to the unconscious mind can facilitate positive changes very quickly.
The subliminal messages that flash up on the screen every now and again last for 1/25th of a second. You do not need to consciously read them as these phrases bypass your conscious awareness and are absorbed and accepted unconditionally by your unconscious mind.
Warning:
This Video Download contains flashing subliminal imagery and graphics. It is safe, but must not be used in a moving vehicle or if you suffer from epilepsy, migraine or clinical depression. If you are unsure please consult your doctor.
---
About the Authors:
Glenn Harrold Glenn Harrold is one of the worlds most successful hypnotherapists. He has helped thousands including many celebrities in a 20 year career and has sold over 4 million hypnosis CDs and downloads. His hypnotherapy titles are well established as the UK's best selling self-help CDs and downloads of all time and consistently top the self-help audio charts on Amazon, iTunes, Audible and Apple's App Store. In May 2011 he was made a Fellow of The British School of Clinical Hypnosis in acknowledgement of his achievements in the world of hypnotherapy.
Marie Williamson Marie Williamson is P.A to Glenn Harrold and has worked with Diviniti Publishing for 10 years. Marie is proud to say that her personal journey has been much enhanced by her involvement in the company and has personally used many of the Diviniti recordings with great success. Marie is married with two children and has great passion for self help, animals, nature and as the owner of two horses and a dog she gains much of her inspiration from the outdoors.
Ali Calderwood Ali is an accomplished musician and producer, whose compositions contain illuminating depths of harmonic sound. His work is highly influenced by 15 years of immersion in ancient ways of shamanic knowledge, and the development of new approaches for modern day healing. Ali is recognised as a skilled shamanic healer, and now with 7 albums under the name of Anima, his work with sound has received international acclaim for its profound effect of aligning the listener with the higher states of consciousness. For more information visit his website - www.animacreations.co.uk
* Disclaimer: Specific results are not guaranteed. Results may vary.
---
Share this Product