Become An Affiliate
Would you like to earn money as a reseller of our best-selling hypnosis and meditation recordings?
Read More...
Develop Successful Relationships - MP3 Download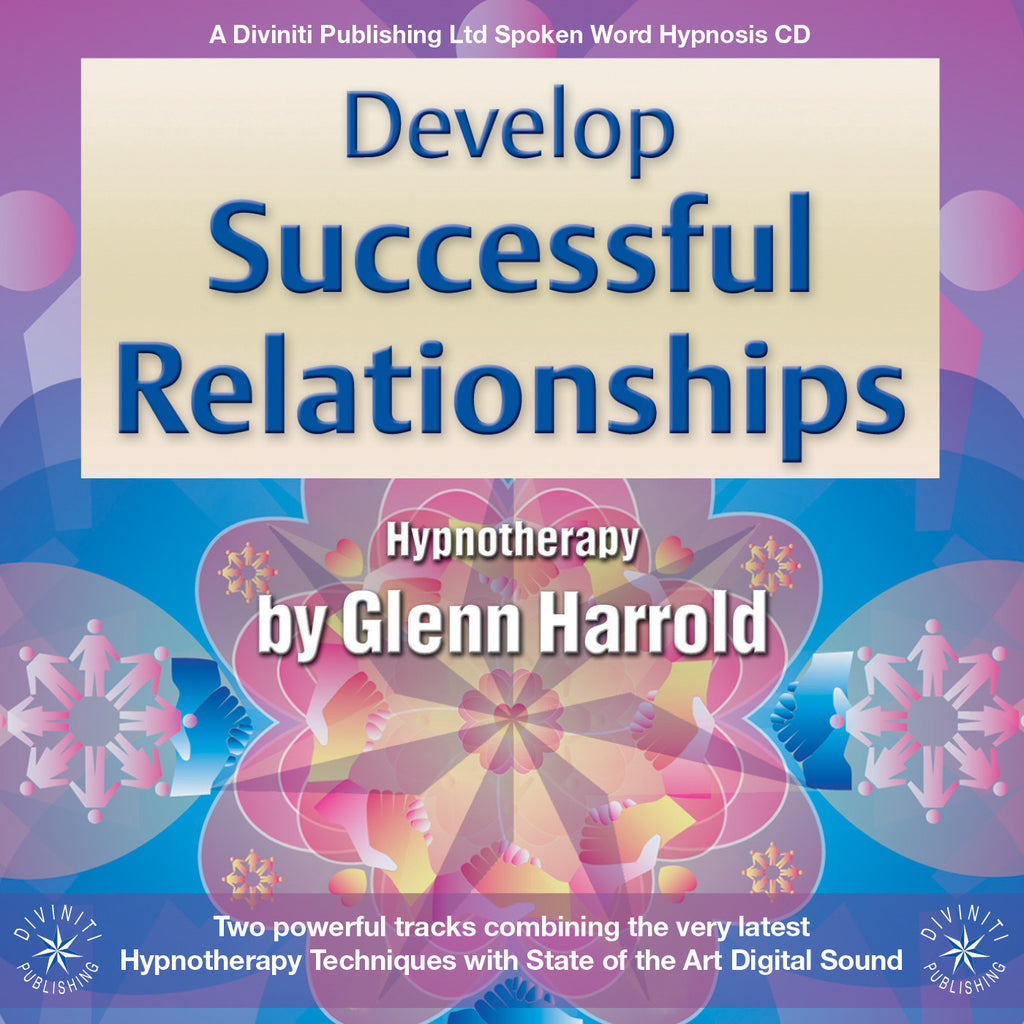 ---
Two high quality guided hypnotherapy sessions to help you develop successful relationships.
Featuring:
Glenn's highly acclaimed hypnosis techniques guiding you into a deep state of mental and physical relaxation.
Background sound effects recorded at certain frequencies and in specific keys to enhance the deep trance effect.
Hypnotic echoed backing vocals panning from left to right across the stereo range - a unique hypnotic effect.
Powerful sound effects and subliminal suggestions compounding the overall effect.
Both tracks combine powerful hypnotherapy techniques with a state of the art digital recording technology.
Develop Successful Relationships (MP3 Download)
Create more loving and harmonious relationships with this superb high quality hypnosis MP3 download by the UK's best selling self-help audio author Glenn Harrold. If you are looking for your perfect partner or aiming to build more success in current relationships, this relaxing self-help audio is for you.
Hypnotherapy is uniquely effective in helping you to re-programme your mind to overcome self-doubt and anxiety and develop a new feeling of self confidence. Glenn's highly acclaimed techniques and state of the art production will help you achieve these goals in a safe and natural way.
This high quality recording will help you to develop harmonious relationships with partners, friends, family and even in business. On both hypnotherapy sessions you will hear Glenn's pleasant voice and absorbing 60 bpm sound effects guiding you into a deeply relaxed state of mental and physical relaxation. In this very receptive relaxed state, you will be given a number of post hypnotic suggestions and carefully layered affirmations to help you focus on improving both individual and general relationships in every area of your life. Track two includes a special unconditional love visualisation that will take you in to a very deep state of relaxation.
Glenn has developed a unique hypnotic effect where you will hear background echoed affirmations panning from left to right in your headphones. This deeply relaxing method of delivering multiple suggestions simultaneously to the unconscious mind can facilitate positive changes very quickly. At the end of each track you will be gently brought back to full waking consciousness with a combination of suggestion and music.
MP3 Track Listing:
1. Develop Successful Relationships (awake ending) 28:45
2. The Power Of Unconditional Love (awake ending) 29:25
Develop Successful Relationships Hypnosis MP3 ISBN: 9781905835171
* Disclaimer: Specific results are not guaranteed. Results may vary.
---
Share this Product