Become An Affiliate
Would you like to earn money as a reseller of our best-selling hypnosis and meditation recordings?
Read More...
Public Speaking Confidence - MP3 Download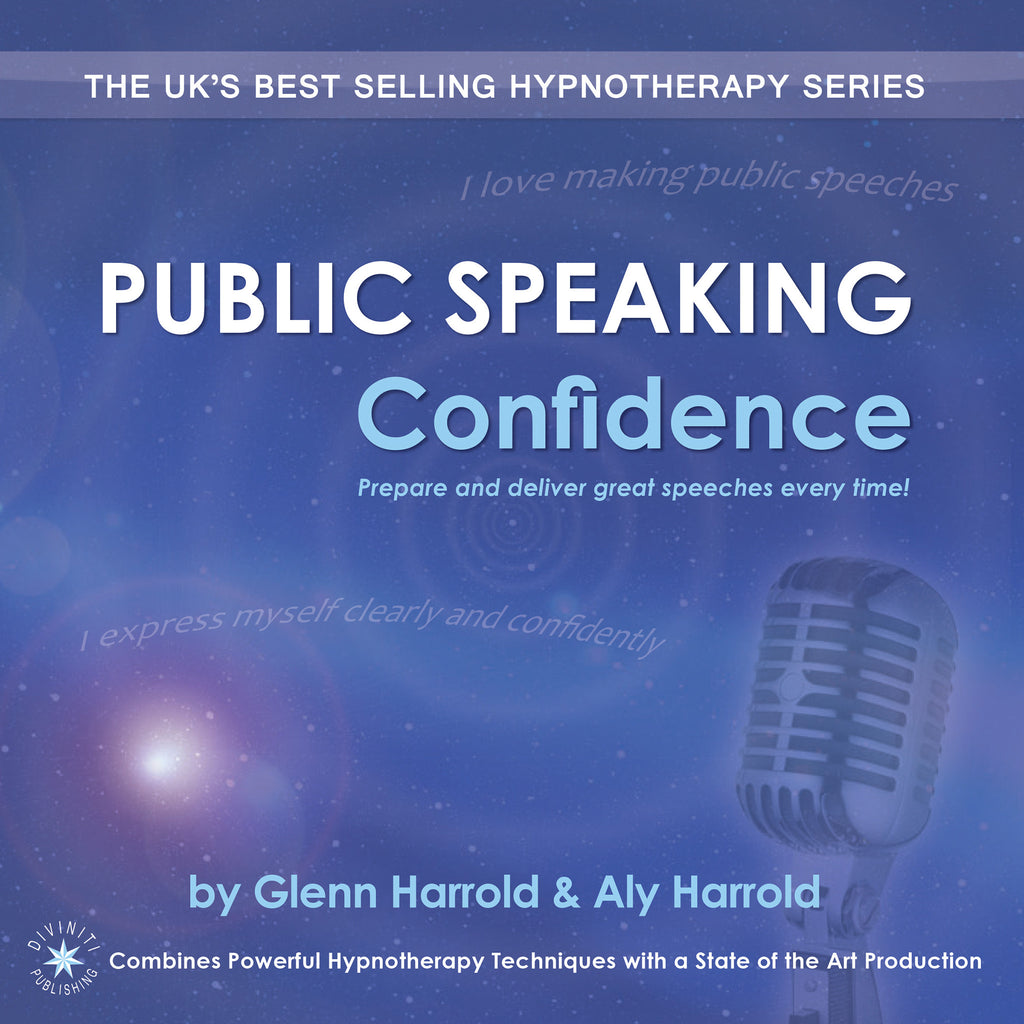 ---
Tips & advice plus a high quality hypnotherapy session for public speaking
Featuring:
Glenn Harrold's calming voice guiding you into a completely relaxed state of mind & body.
Powerful hypnosis techniques, state of the art digital recording technology.
Soothing background sounds recorded in specific musical keys and frequencies to deepen the relaxation effect.
Hypnotic echoed affirmations which pan from ear to ear across the stereo range - a deeply relaxing, unique effect.
Powerful subliminal suggestions under the fade out sound at the end of the recording.
Public Speaking Confidence (MP3 Download)
'Public Speaking Confidence' is a superb high quality hypnosis recording by the UK's best selling self-help audio author Glenn Harrold. This double MP3 includes a supplementary track By Aly Harrold.
Part one 'Become The Speaker You Know You Can Be' is a 35-minute recording by Aly Harrold. This recording is full of tips and technical information to help you excel on your path to being an amazing Public Speaker.
Part two is by Glenn Harrold is a powerful hypnosis recording which will guide you into a deep state of mental and physical relaxation where you will receive hypnotic suggestions to help you deliver great speeches every time.
This recording includes two hypnotherapy tracks, the first one you can use in the daytime as it will guide you back to full waking consciousness at the end. The second track is identical except that it guides you into a sleep state at the end, which makes it ideal for using before you go to sleep at night. Both tracks include tried and tested techniques to get you into a peak performance state when you actually make your speech. This recording will help you to overcome any nerves and make very effective public speeches every time.
MP3 Track Listing:
1. Public Speaking Confidence Introduction - 02:46
2. Public Speaking Confidence Advice by Aly Harrold - 31:30
3. Public Speaking Confidence Hypnotherapy by Glenn Harrold (awake ending) - 29:36
4. Public Speaking Confidence Hypnotherapy by Glenn Harrold (sleep ending) - 38:05
5. Heavenly Dreams (music by Glenn Harrold) - 04:14
Please note: Track 3 has an awake ending making it ideal for daytime use. Track 4 has a go to sleep ending which will guide you into a peaceful sleep, ideal for night-time use.
Glenn Harrold is a highly experienced clinical Hypnotherapist and best-selling author. This title is number 30 from the highly successful Glenn Harrold hypnosis range which is well established as the UK's best selling self-help CD & MP3 download series.
An optional eBook is available with the MP3 version of this title: Choose the "MP3 + eBook" option above to include Aly Harrold's eBook "A Guide To The Art Of Public Speaking"
Public Speaking Confidence Hypnosis MP3 ISBN: 9781905835386
* Disclaimer: Specific results are not guaranteed. Results may vary.
---
Share this Product