Become An Affiliate
Would you like to earn money as a reseller of our best-selling hypnosis and meditation recordings?
Read More...
Spiritual Weight Loss & Lose Weight Now! - MP3 Download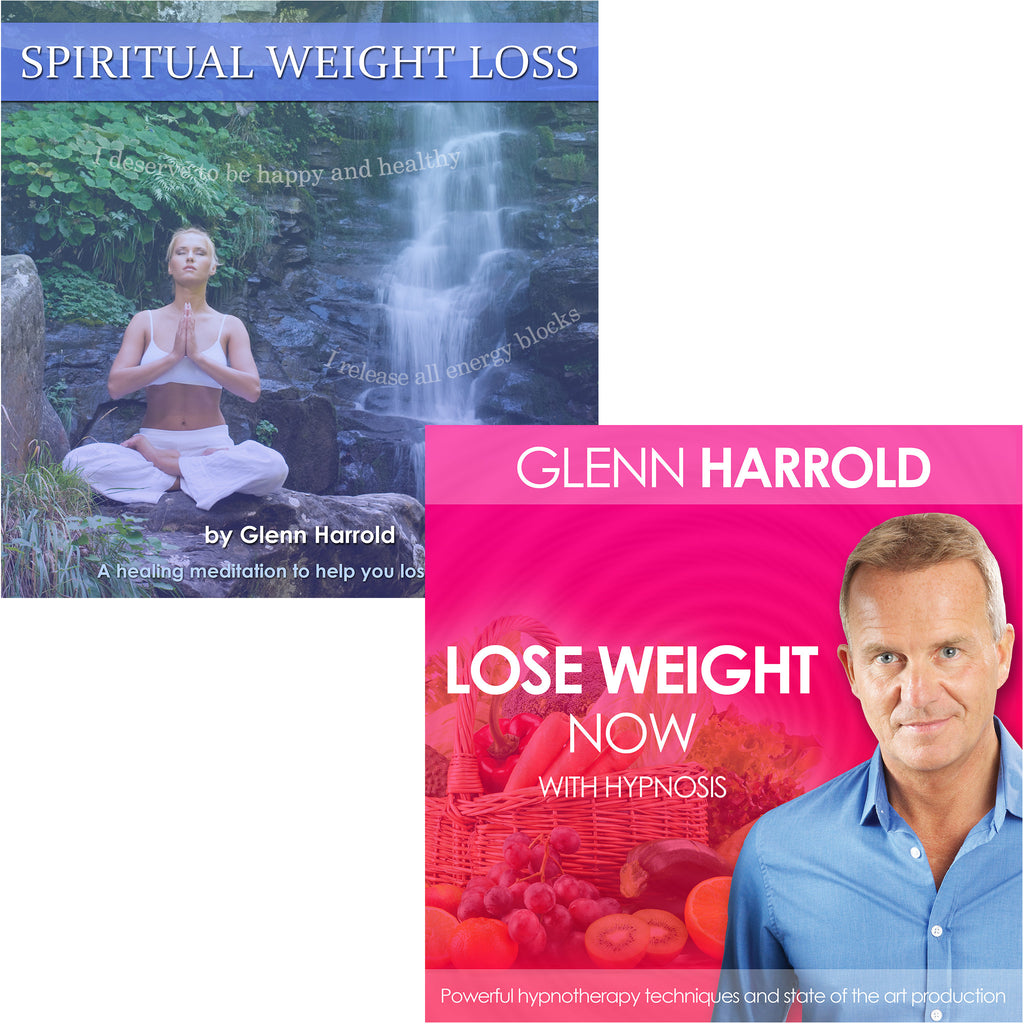 ---
Includes:
Spiritual Weight Loss MP3
Lose Weight Now MP3
Featuring:
Glenn's highly acclaimed hypnosis techniques guiding you into a deep state of mental and physical relaxation.
Background sound effects recorded at certain frequencies and in specific keys to enhance the deep trance effect.
Hypnotic echoed backing vocals panning from left to right across the stereo range - a unique hypnotic effect.
Sound effects & powerful subliminal suggestions - all compounding the overall effect.
Combines powerful hypnotherapy techniques with a state of the art digital recording technology.
Spiritual Weight Loss (MP3 Download)
This powerful hypnosis recording by best-selling self-help author Glenn Harrold has been designed to help you remove any spiritual and emotional energetic blocks around the issue of weight loss. The two things you need to do to lose weight are to eat healthily and to exercise regularly. However if you have any energy blocks preventing your from doing either of those two things, weight loss can be an on-going battle.
Repetitive behavioural patterns that you find it hard to shake are often caused by blocks in your energy fields. By healing yourself emotionally and clearing your energy body of imprints from the past you can release patterns that have been with you for a long time. When you heal yourself spiritually it will naturally follow that you will heal yourself physically and emotionally.
It is recommend that you use this recording regularly, ideally in conjunction with Glenn's Lose Weight Now title, which works more on the physical aspects of weight loss. This recording will take you in to a deep place where you can really empower yourself and take back control. When you make a change like this energetically, eating healthily and exercising will become completely normal and natural to you.
Includes a daytime awake version (40 minutes) and a bedtime sleep version (41 minutes) along with The Ultimate Guide To Self-Hypnosis eBook by Glenn Harrold.
Post hypnotic affirmations include:
I continue to release blocks around weight loss
I love eating healthily
I love to exercise and keep fit
I love and respect myself unconditionally
I deserve to be happy and healthy
Spiritual Weight Loss MP3 ISBN: 9781905835560
---
Lose Weight Now! (MP3 Download)
Lose weight the easy way with this superb, high quality weight loss hypnosis MP3 download by Glenn Harrold, the UK's best-selling self-help audio author. Glenn's unique hypnotherapy recording will help you to programme your mind to accept that you eat small amounts of healthy food and genuinely LOVE exercising and being active. Losing weight is easy when your are in control of your eating habits and exercising regularly and Glenn's highly acclaimed hypnosis techniques and production will help you achieve these goals in a safe and natural way.
On both hypnosis tracks you will be safely guided into a very deep state of mental and physical relaxation and then given multiple post-hypnotic suggestions to release any desire for sweet or fattening food, and to eat smaller amounts of healthy food instead.
Glenn's utilises his skilled weight control hypnotherapy techniques to help you break any past negative associations with eating and dieting, which completely removes the struggle from losing weight. By taking full control of your eating habits automatically, you will begin to lose weight the best way possible - slowly and steadily. This production will help you to feel very motivated to exercise often and to remain a healthy eater forever, even after you have reached your target weight.
MP3 Track Listing:
1. Lose Weight Now (awake) 32:52
2. Lose Weight Now (sleep) 35:09
3. Lose Weight Affirmations (awake) 33:31
Please note: The first and last tracks have an awake ending and will gently bring you back to full waking consciousness, making it ideal for daytime use. The second track has a sleep ending and will guide you into a peaceful sleep at the end, making it ideal for night-time use.
Introduction music written by Glenn Harrold Individual background music pieces by Glenn Harrold and Christopher Lloyd Clarke.
Weight Loss Hypnosis MP3 ISBN: 9781905835140
* Disclaimer: Specific results are not guaranteed. Results may vary.
---
Share this Product