Become An Affiliate
Would you like to earn money as a reseller of our best-selling hypnosis and meditation recordings?
Read More...
Sports Performance & Raise Your Energy and Motivation - 2 MP3s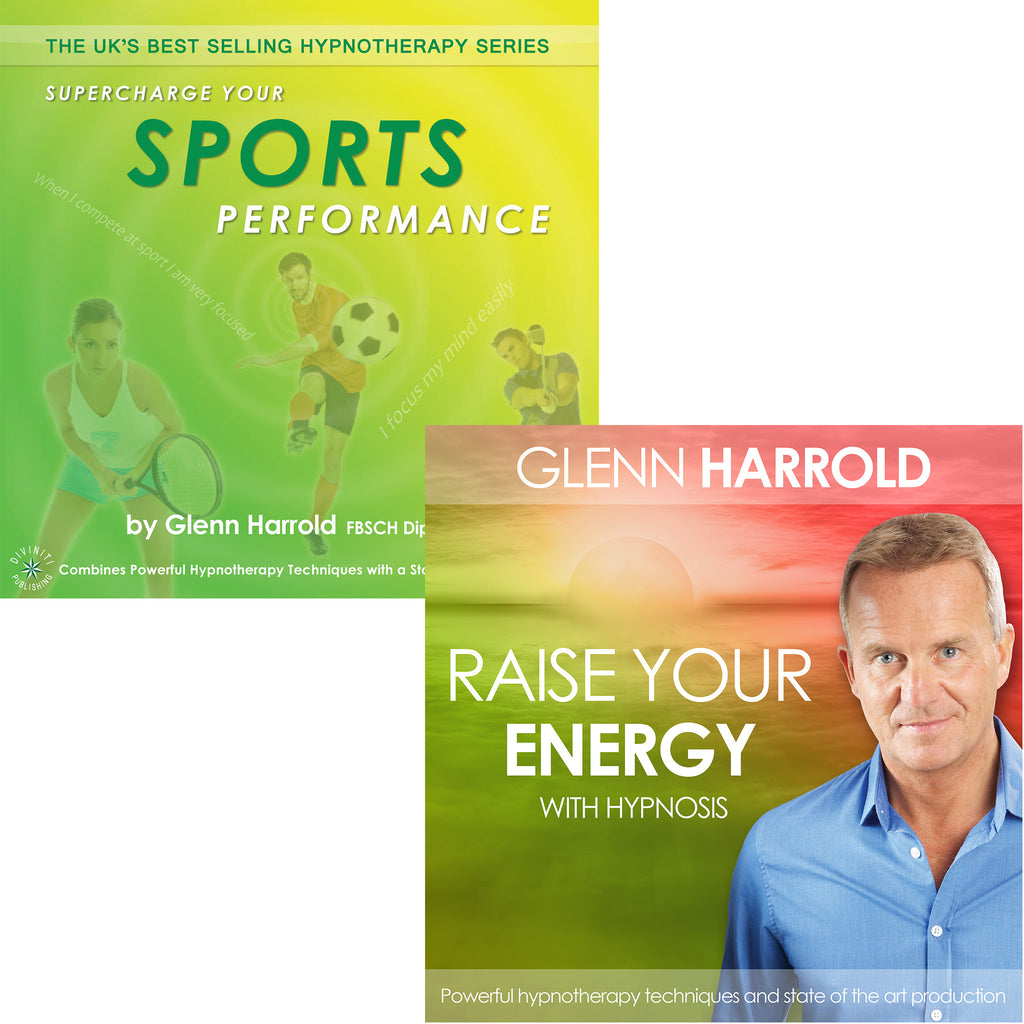 ---
Includes:
Supercharge Your Sports Performance MP3
Raise Your Energy and Motivation MP3
Featuring:
Glenn's highly acclaimed hypnosis techniques guiding you into a deep state of mental and physical relaxation.
Background sound effects recorded at certain frequencies and in specific keys to enhance the deep trance effect.
Hypnotic echoed backing vocals panning from left to right across the stereo range - a unique hypnotic effect.
Sound effects & powerful subliminal suggestions - all compounding the overall effect.
Combines powerful hypnotherapy techniques with a state of the art digital recording technology.
Supercharge Your Sports Performance (MP3 Download)
Supercharge Your Sports Performance is a superb high quality hypnosis recording by the UK's best selling self-help audio author Glenn Harrold. Glenn's powerful hypnosis recording will help you achieve a peak performance state whenever you need to be at your best in any sporting event. Using the latest hypnotherapy techniques Glenn will help you prepare for any sporting activity or competition by using the power of your mind. The hypnosis session will help you focus your mind on being able to get 'in the zone' and achieve a 'peak performance state' whenever you engage in sport or compete at any level.
If you have any kind of apprehension or anxiety when you play sport or even if you just want to improve the mental side of your game then this is the recording for you. It will help you perform well under pressure and eliminate fear or negativity.
Preparation is the key to achieving sporting greatness and you will be amazed at how good you feel after using this recording. It can be used by amateurs and professionals in any sport. The recording includes two hypnotherapy tracks, the first one you can use in the daytime as it will guide you back to full waking consciousness at the end. The second track is identical except that it guides you into a sleep state at the end, which makes it ideal for using before you go to sleep at night.
About the Author
Glenn has sold over 1.5 million hypnosis recordings on all formats and is also a keen amateur sportsman. As well being a hypnotherapist for twenty years Glenn has played many sports including, football, tennis, golf, badminton, table tennis, snooker and more to a good standard and understands the psychology behind sports competition. He is also a club level tennis player.
Supercharge Your Sports Performance Hypnosis MP3 ISBN: 9781905835393
---
Raise Your Energy & Motivation (MP3 Download)
Overcome stress and anxiety and build your self motivation with this superb high quality energy and motivation hypnosis MP3 download by Glenn Harrold. Feeling more motivated and energised can help you at home, work and in many areas of your daily life. Raise Your Energy & Motivation has been designed to empower and motivate you and give you energy and inspiration by using the vast power of your own mind. The hypnotherapy techniques on this title will help you in a safe and natural way, free of any harmful side effects.
The MP3 features two hypnotherapy sessions. On both tracks you will hear a pleasant voice guiding you into a completely relaxed state of mind & body. Hypnotic echoed background vocals pan from left to right across the stereo range. This deeply relaxing and unique effect will help you to relax further into the trance state. You will also hear some digital sound effects and powerful subliminal suggestions that compound the therapeutic effect, leaving you feeling very inspired and motivated. From the UKs best selling CDs/MP3s by Diviniti Publishing.
Track Listing:
1. Raise Your Energy
2. Increase Your Motivation
Introduction music written by Glenn Harrold Individual background music pieces by Glenn Harrold and Christopher Lloyd Clarke.
Energy & Motivation Hypnosis MP3 ISBN: 9781905835218
* Disclaimer: Specific results are not guaranteed. Results may vary.
---
Share this Product