Become An Affiliate
Would you like to earn money as a reseller of our best-selling hypnosis and meditation recordings?
Read More...
Detox Your Life & Play Great Golf - 2 MP3s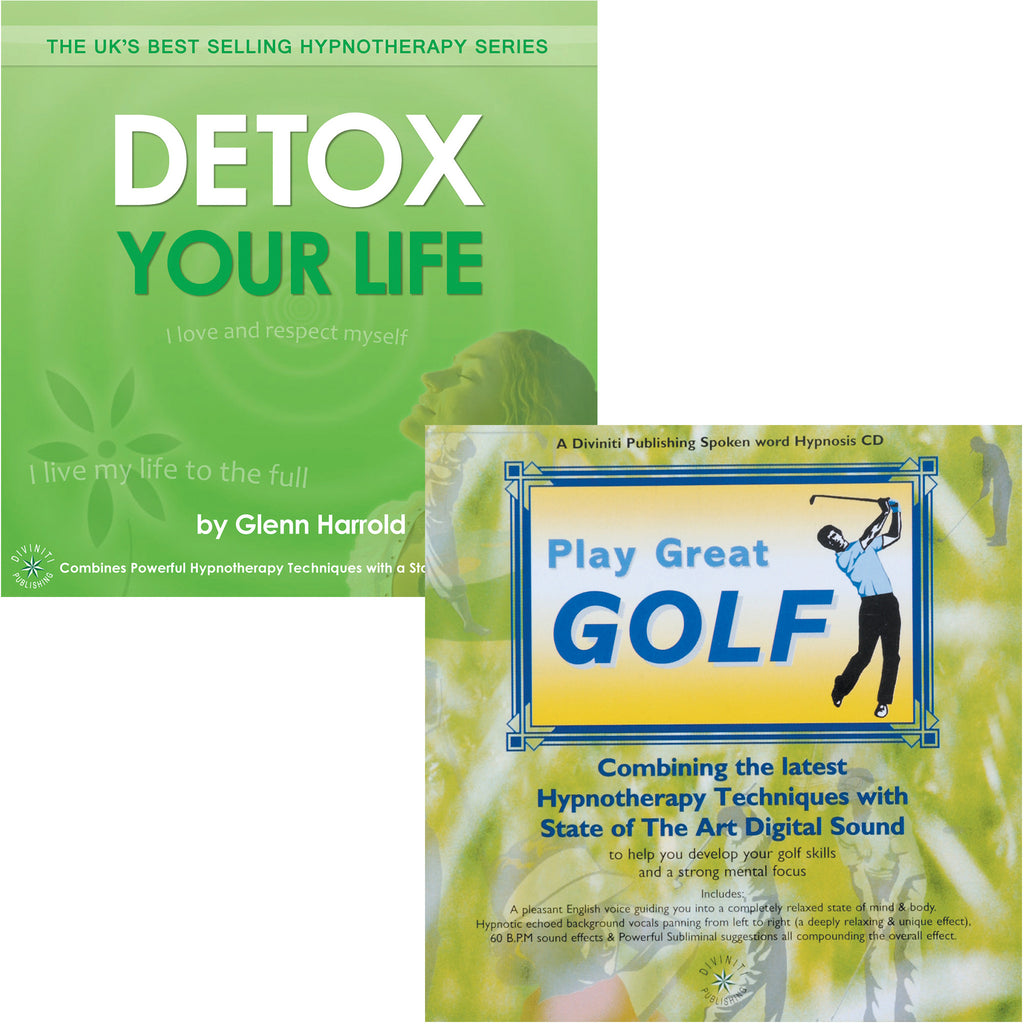 ---
Includes:
Play Great Golf MP3
Detox Your Life MP3
Featuring:
Glenn's highly acclaimed hypnosis techniques guiding you into a deep state of mental and physical relaxation.
Background sound effects recorded at certain frequencies and in specific keys to enhance the deep trance effect.
Hypnotic echoed backing vocals panning from left to right across the stereo range - a unique hypnotic effect.
Sound effects & powerful subliminal suggestions - all compounding the overall effect.
Combines powerful hypnotherapy techniques with a state of the art digital recording technology.
Play Great Golf (MP3 Download)
This superb high quality 2 track hypnotherapy MP3 Download by the UK's best selling hypnotherapist Glenn Harrold, combines powerful clinical hypnotherapy techniques with state of the art digital recording technology. Play Great Golf will help golfers of all standards to develop a strong mental focus and consistently play great golf. Also includes modelling techniques and many post hypnotic suggestions to help the listener develop great timing, judgement, and self-belief.
From the Best selling Diviniti Publishing Hypnosis range which regularly features at the top of the Nielsen Book track UK self-help audio chart.
This powerful MP3 is a completely safe and very effective way of building your self-esteem. After listening to both tracks you will automatically feel more assertive and self-assured and begin to develop an inner peace and self-esteem that will grow stronger over time.
Play Great Golf Hypnosis MP3 ISBN: 9781905835256
---
Detox Your Life (MP3 Download)
Detox Your Life is a superb high quality hypnosis affirmation recording, which will help you alleviate stress and anxiety and feel inspired and motivated. The 61-minute audio track is separated into two parts, the Intro and the hypnotherapy session, you can choose to skip the intro part after your first listen. There is also no wake up part on this recording so it is ideal for bedtime listening when you need to relax and sleep well.
This recording will take you on a special journey into the deepest levels of relaxation. The subtle background soundscapes supporting Glenn's soothing voice will help you to experience profound feelings of inner peace and relaxation. The focus of the recording is to connect you with your creativity and to help you to feel stronger and happier so that you are able to cope with change and the general ups and downs of modern day life. Like all of Glenn's recordings it combines powerful hypnotherapy techniques with state of the art recording technology. The special background sound effects have been recorded in certain keys and frequencies to help enhance the meditation effect and guide you into a deep state of mental and physical relaxation. The background sounds are a mixture of sea sounds and pink noise, which induces deep feelings of relaxation and calm.
At the deepest point in the hypnosis session you are given a number of post-hypnotic affirmations and direct suggestions to help you connect with a deep feeling of mental and physical relaxation, which will stay with you in your everyday life.
There are also a number of background affirmations, which echo and pan from left to right across the stereo range, ideal when using headphones. This deeply relaxing and powerful method of delivering multiple suggestions simultaneously to the unconscious mind can facilitate positive changes very quickly.
MP3 Track Listing:
1. Detox Your Life - Introduction 01:36 mins
2. Detox Your Life - Hypnotherapy Session (awake ending) 60:11 mins
Please note: The second track will gently bring you back to full waking consciousness at the end making it ideal for daytime use.
Detox Your Life Hypnosis MP3 ISBN: 9781905835379
* Disclaimer: Specific results are not guaranteed. Results may vary.
---
Share this Product