Become An Affiliate
Would you like to earn money as a reseller of our best-selling hypnosis and meditation recordings?
Read More...
The Great Spirit Series for Little Souls Bundle - 2 MP3s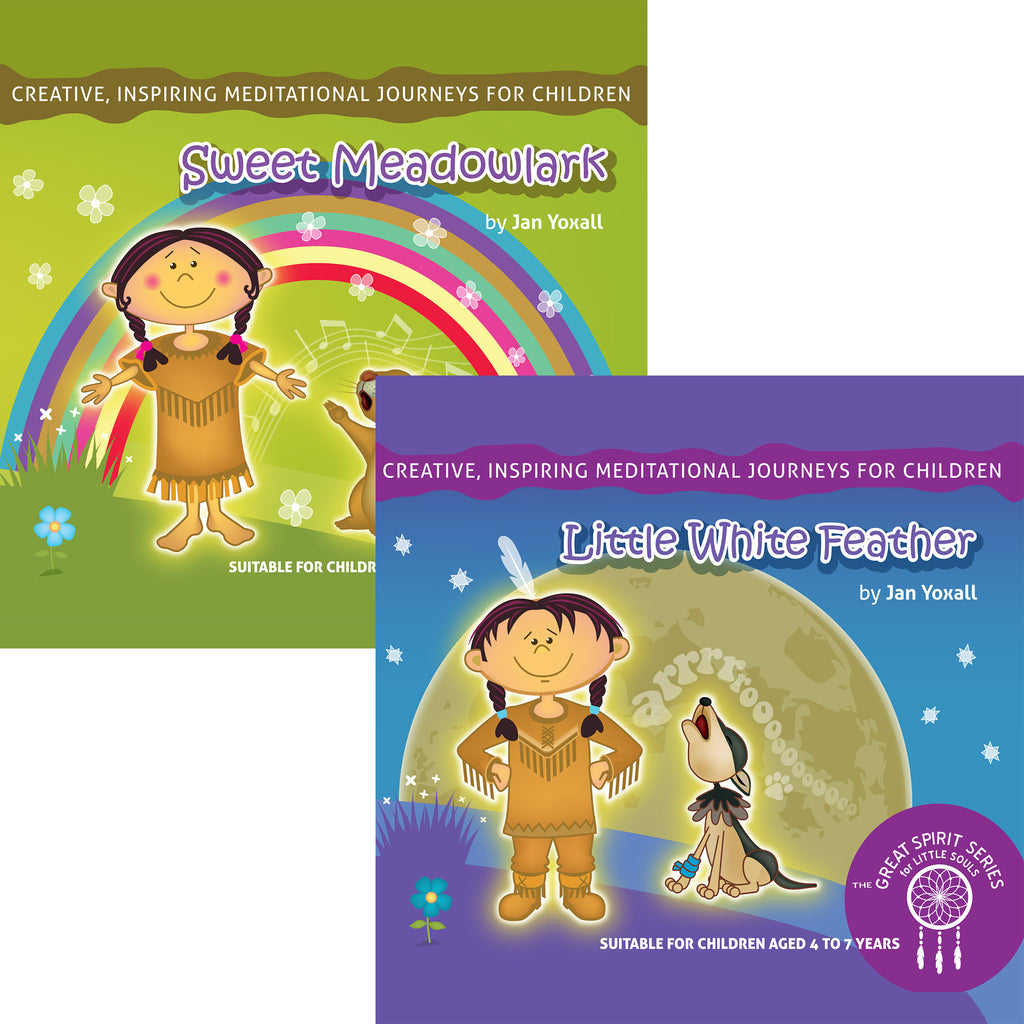 ---
The Great Spirit Series for Little Souls Bundle
This double MP3 bundle includes both titles from The Great Spirit Series by Jan Yoxall.
Little White Feather (MP3 Download)
Little White Feather is a small Native American boy who lives in a tipi in a place called the Great Plains. Find out how he bravely overcomes his fears and rescues the injured wolf, discover the name of his pony and the secrets he learned about Planet Earth when he flew high into the stars on the back of an eagle.
Little White Feather MP3 ISBN: 9781905835638
---
Sweet Meadowlark (MP3 Download)
Sweet Meadowlark is Little White Feather's younger sister. Find out why she is called Sweet Meadowlark, discover how she helps the Prairie Dogs to sing again and join her and Grandmother Kate as they float on a magic cloud.
Sweet Meadowlark MP3 ISBN: 9781905835645
---
These MP3 downloads stimulate children's imagination and creativity whilst also increasing confidence and self esteem, helping to create a sense of peace and calm in a busy world where children can get caught up in the day to day stress of daily life. They can be used for general relaxation or at bedtime to help with issues around sleeping. Suitable as an educational or teaching resource. Suitable for children aged 4 to 7 years and entertaining to children and adults alike beyond those years.
---
Jan Yoxall is an experienced complementary therapist and author of the very successful Sacred Light Series of Angel Meditation MP3s. The meditations in this children's series have been inspired by her interest in the Native American people and their traditions, particularly the people of the Lakota and Cheyenne Nations to whom she extends respect and gratitude for the warmth shown during her travels through South Dakota, Wyoming and Montana.
The stunningly beautiful landscape she has encountered on these journeys provides the perfect backdrop to these captivating and delightful children's meditations.
For more information, visit The Great Spirit Series website: www.greatspiritseries.com
* Disclaimer: Specific results are not guaranteed. Results may vary.
---
Share this Product