Become An Affiliate
Would you like to earn money as a reseller of our best-selling hypnosis and meditation recordings?
Read More...
Law of Attraction - MP3 Download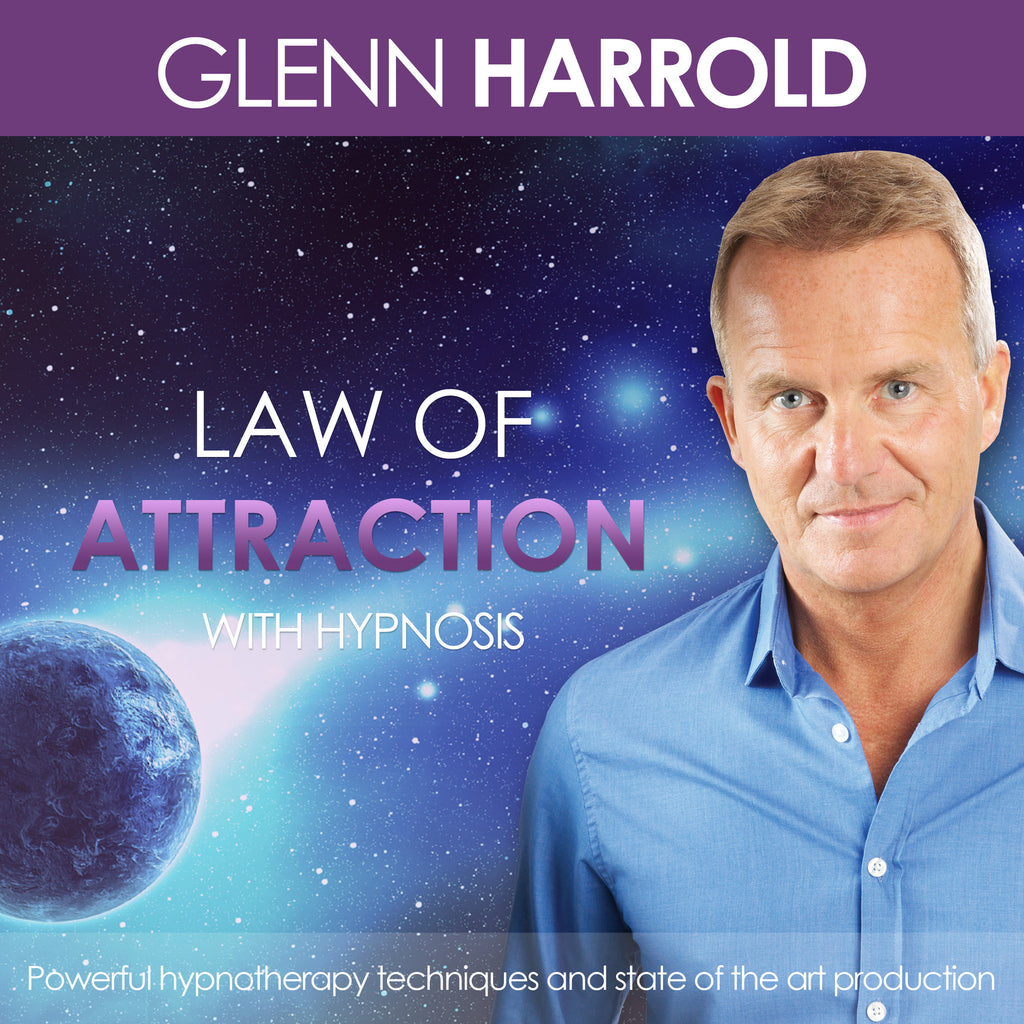 ---
A law of attraction hypnosis session by Glenn Harrold
Featuring:
Glenn's highly acclaimed hypnosis techniques guiding you into a deep state of mental and physical relaxation.
Includes a full 38 minute hypnosis session (sleep ending) and a shorter 12-minute version (awake ending), ideal for daytime use when time is limited.
Background sound effects recorded at certain frequencies and in specific keys to enhance the deep trance effect.
Hypnotic Law of Attraction echoed affirmations, which pan from ear to ear across the stereo range - a deeply relaxing, unique effect.
Sound effects and powerful subliminal suggestions - all compounding the overall effect.
Combines powerful hypnotherapy techniques with a state of the art digital recording technology.
Law of Attraction (MP3 Download)
This deeply relaxing Law of Attraction hypnosis recording by Glenn Harrold will help you to project your goals into the universe with real power and intent.
The recording will help you harness your energy and focus on any goal you choose. When every cell in your mind, body and spirit are resonating at such an intense frequency, the Law of Attraction will deliver back to you exactly what you are projecting out into the universe. You will then find new opportunities come along easily and naturally, as you will have an alignment with your chosen goal.
Glenn's 38-minute Law of Attraction recording makes manifesting easy, as it combines Cosmic Ordering, The Universal Law of Attraction and guided hypnosis to help you manifest your goals. When you listen to this recording it is best to focus on one clear goal at a time. So decide upon a goal you want to manifest in your life, which could be for success, abundance, love, a new career, the ideal partner, new friends and so on. 
Write your chosen goal down, as clarity is the key. Then listen to the Law of Attraction hypnosis track a number of times with this goal in mind, so that you build a strong energy that will make your goal an absolute inevitability. The universe in this case is unemotional. It will deliver back to you exactly what you ask for so make sure you are very specific about what you want to attract into your life and make it for the highest good of all concerned.
The recording will also help you to focus on a feeling of gratitude and encourage you to expand your consciousness. The sound effects, echoed affirmations and main Law Of Attraction hypnotherapy track combine to create a powerful recording that will give you a feeling of empowerment. It will also encourage you to engage your feelings when you are in the trance state, which is a key element in using hypnosis to create the life you want.
When you listen to the recording you will hear Glenn's unique and highly acclaimed hypnosis techniques, which will guide you into a deeply relaxed and receptive state. When you project your goal out from this place it will create so much power and energy.
It is recommended you use the recording regularly so you build a powerful energy around manifesting. And with regular use of the recording and by absorbing the post hypnotic suggestions, you will feel so much stronger inside and feel empowered on many levels. This powerful Law of Attraction hypnosis recording will help you feel so much more abundant in all areas of your life.
The second track is a 12 minute booster which is designed for you to listen to after using the main track a few times. It can be used as a booster anytime when time is tight and is ideal in the middle of the day, as it won't guide you into too deep a state of hypnosis.
MP3 Track Listing:
1. Law of Attraction (sleep ending) 38:17 mins
2. Law of Attraction - Short Version (awake ending) 12:00 mins
Post hypnotic affirmations include:
I manifest my goals easily and magically

I am always in the right place at the right time

I attract amazing things into my life

I am abundant and successful
Law of Attraction Hypnosis MP3 ISBN: 9781908321138
* Disclaimer: Specific results are not guaranteed. Results may vary.
---
Share this Product