Become An Affiliate
Would you like to earn money as a reseller of our best-selling hypnosis and meditation recordings?
Read More...
Quit The Sugar Habit - MP3 Download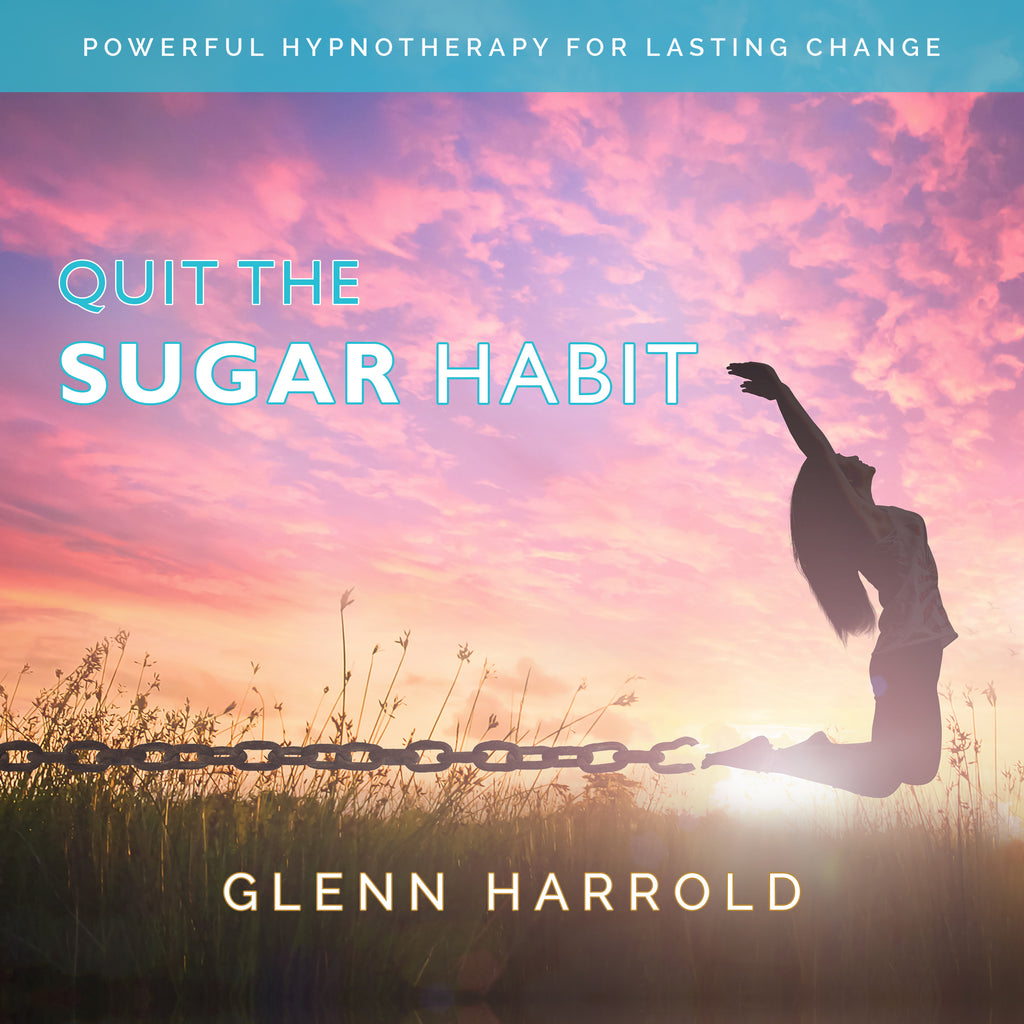 ---
Overcome sugar addiction with this deeply effective hypnotherapy session by Glenn Harrold.
Featuring:
Glenn's highly acclaimed meditation techniques guiding you into a deep state of mental and physical relaxation.
Background sound effects recorded at certain frequencies and in specific keys to enhance the deep trance effect.
Hypnotic echoed affirmations, which pan from ear to ear across the stereo range - a deeply relaxing, unique effect.
Sound effects and powerful subliminal suggestions - all compounding the overall effect.
Combines relaxing hypnotherapy techniques with a state of the art digital recording technology.
Quit The Sugar Habit (MP3 Download)
Quit the Sugar Habit includes two powerful hypnotherapy tracks by Glenn Harrold. The first is a full 45-minute version, which we recommend you use initially for at least 21 days to help you absorb and compound all hypnosis suggestions and affirmations.
The second 16-minute hypnotherapy track can be used as a booster track and listened to at any time you choose.
The main hypnotherapy recording has been designed to help you break free of the excess sugar habit forever. If this is genuinely your aim, the recording will help you to undo any negative programming around sugar and free you from the impulses or habitual patterns that you may have previously struggled to resist. It will also guide you towards making choices that raise your vibration and connect you with your higher consciousness.
The main hypnotherapy track will guide you into a deeply relaxed and receptive state where you will effortlessly absorb the many post hypnotic suggestions to help you cope with the pressures of modern day life - without relying on sugar or any associated negative habits.
The recording also offers suggestions for energetically purging some of the root causes of sugar addiction. When you get to the energetic heart of any addiction in this way, you take out the foundation of the addiction and the unhealthy triggers lose their strength. They no longer have a hold over you, as you have purged yourself of them at the root cause.
Towards the end of the hypnotherapy session you will be guided towards new healthy coping strategies.
Both the full and short tracks combine skilled hypnotherapy techniques with state of the art digital recording technology and Glenn's soothing voice, which will guide you into a completely relaxed state of mind and body. You will also hear hypnotic echoed background affirmations panning from left to right, with dreamy background sound effects to enhance the deep relaxation effect.
Re-programming your mind on an unconscious level is the most effective way to permanently quit an unwanted habit.
MP3 Track Listing:
1. Quit The Sugar Habit - Full Version (sleep ending) 43:40 mins
2. Quit The Sugar Habit - Short Version (awake ending) 16:02 mins
Please note: At the end of the first track you will be gently guided into a deep sleep, making this recording ideal for night-time use. The second session will gently bring you back to full waking consciousness at the end.
Quit The Sugar Habit MP3 ISBN: 9781908321664
* Disclaimer: Specific results are not guaranteed. Results may vary.
---
Share this Product