Become An Affiliate
Would you like to earn money as a reseller of our best-selling hypnosis and meditation recordings?
Read More...
8D Abundance Affirmations (Part 1) - MP3 Download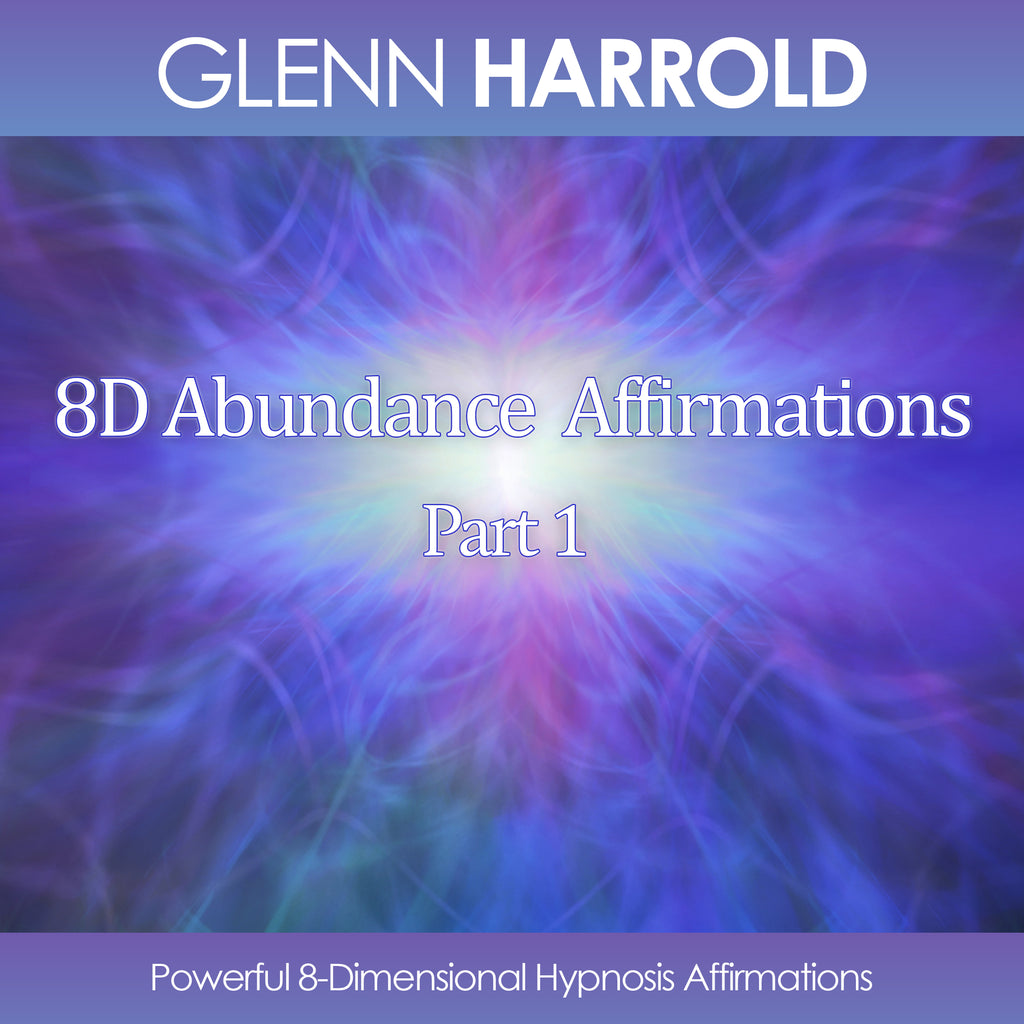 ---
Deeply powerful hypnotic 8D abundance affirmations by Glenn Harrold 
Featuring:
Glenn's highly acclaimed hypnotherapy techniques guiding you into a deep state of mental and physical relaxation.
Includes a 31-minute sleep ending track.
Background sound effects recorded at certain frequencies and in specific keys to enhance the deep trance effect.
8D hypnotic echoed affirmations, which pan

 in front of you, then behind you, above you and below you, as well as panning across both hemispheres helping you to absorb the affirmations deeply (headphones required).




Sound effects and powerful subliminal suggestions - all compounding the overall effect. 

Combines relaxing meditation techniques with a state of the art digital recording technology.
8D Abundance Affirmations - Part 1 (MP3 Download)
Welcome to this 30-minute abundance affirmation recording, which is the first track in a series of 8D affirmations. This series is a new type of affirmation meditation where the affirmations have been produced in 8-dimensional sound. Please note that to experience the 8D effect, headphones are required.
This means that when you hear the twelve powerful abundance affirmations on each track, you will hear them moving around the stereo field; above and below, left to right and front and back.

The best way to listen is lying down or sitting comfortably with headphones on so that you experience the full 8-dimensional effect of the affirmations. The production moves the affirmations around in your headphones, creating a very dreamy and trance like effect.
This engages your mind and helps you to absorb these powerful affirmations on a deep level. With this in place you will respond to the affirmations in your every-day life quite naturally without thinking about them.

There are also a number of subliminal abundance affirmations under the music at the end of each track, which have been placed in the mix below the human audible range. These subliminal suggestions become absorbed into your unconscious mind without critical analysis and help compound the effect of the main 8D abundance affirmations.

When you hear the 8D affirmations you will be in a relaxed and receptive state and the key to making the affirmations work, is to really believe them as you hear them. You can either repeat the affirmations out loud or silently, it doesn't matter which as the most important part is that you believe them completely and accept them as a reality.
When you hear them, allow the affirmations to resonate deep inside you and connect with each affirmation with real feeling and emotion. The more you put your feelings into the affirmations the more effective they will be.

Here are the twelve magic 8D abundance affirmations broken down into four groups of three:
I attract great things in my life
I can achieve anything I desire
I continue to feel more positive at all times


I feel strong and secure in myself
I attract wonderful opportunities into my life
My life is full of abundance


Money comes to me easily and naturally to me
Every day I attract more abundance into my life
I am abundant and successful


I am kind and compassionate
I give and receive easily
I love to expand my consciousness
MP3 Track Listing:
1. 8D Abundance Affirmations - Part 1 (sleep ending) 31:28 mins
This track has a sleep ending and will guide you into a peaceful sleep at the end, making it ideal for night time use. However, it can be used at any time.
8D Abundance Affirmations - Part 1 MP3 ISBN: 9781908321480
* Disclaimer: Specific results are not guaranteed. Results may vary.
---
Share this Product