Become An Affiliate
Would you like to earn money as a reseller of our best-selling hypnosis and meditation recordings?
Read More...
Lose Weight Now - PAL DVD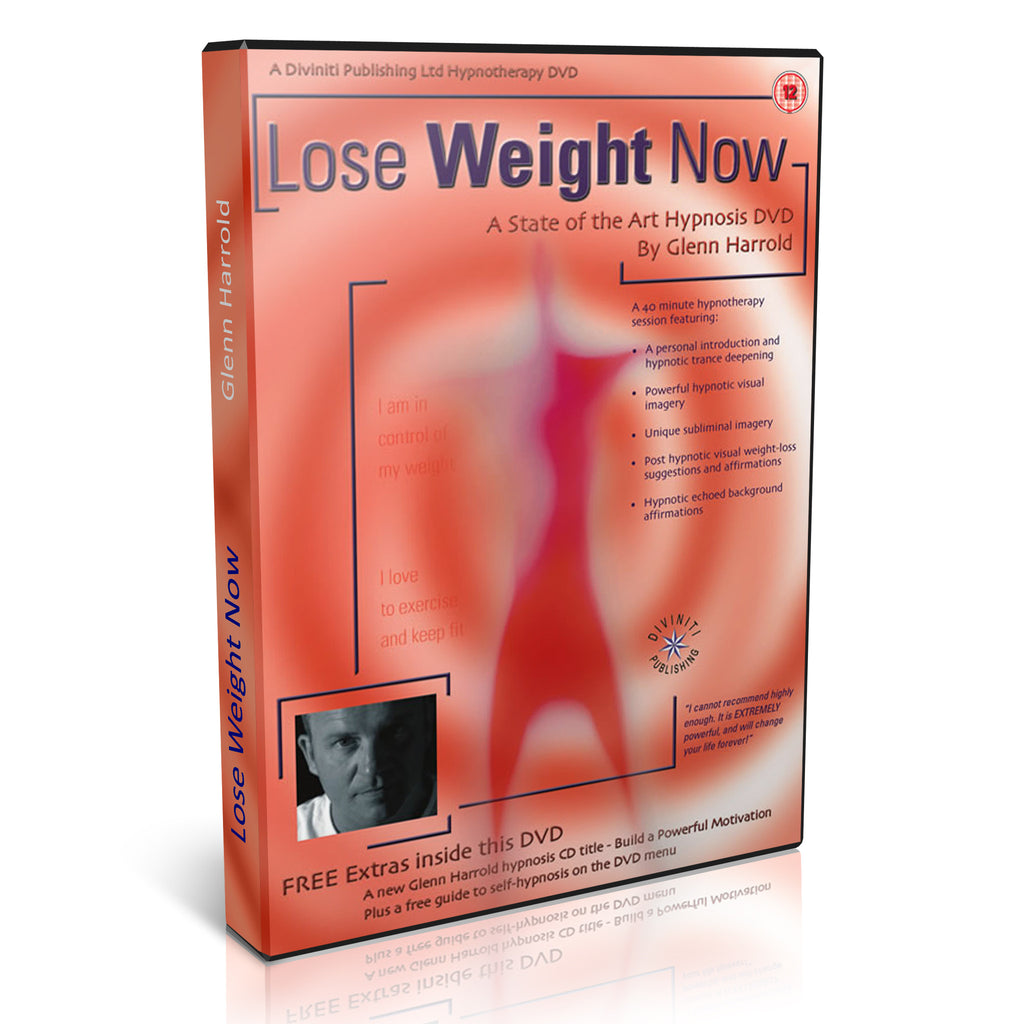 ---
Important notice for non European customers:


This DVD was recorded in PAL Region 2 format and is therefore only compatible with DVD players in the UK, Ireland, most other European countries, parts of Africa and parts of the Middle East. It is NOT compatible with systems in the USA, Canada, Japan and most other countries in Asia and the Americas. Please check that you have PAL Region 2 compatible equipment.
Lose Weight Now! PAL DVD (with Bonus Audio CD)
This superb high quality hypnotherapy DVD by the UKs best selling audio hypnotherapist, Glenn Harrold, combines powerful visual and audio hypnotherapy techniques with state of the art digital recording technology.
On the DVD Glenn Harrold will guide you into a deeply relaxed state of mental and physical relaxation. In this very receptive relaxed state you are given a number of post hypnotic and direct suggestions to help you lose weight, build your self-esteem and feel very motivated to exercise and keep fit.
The absorbing hypnotic visual imagery combined with the powerful hypnosis audio track create a dynamic state for integrating suggestions and losing weight easily. There are also a number of background echoed affirmations, which pan from left to right across the stereo range. These deeply soothing and potent methods of delivering multiple suggestions simultaneously to the unconscious mind can facilitate positive changes very quickly.
The subliminal messages (printed on the back cover) that flash up on the screen every now and again are on screen for 1/25th of a second. You do not need to consciously read them as these phrases bypass your conscious awareness and are absorbed and accepted unconditionally by your unconscious mind.
This DVD will guide you into a hypnotic trance state and then bring you back to full waking consciousness at the end, so it is important to watch and listen to the session in its entirety. You need to create a time and space where you can watch the full 40-minute hypnotherapy session from start to finish.
It is recommended that you initially watch this DVD on a daily basis. It is good to have a clear idea of your target weight before you start. Take a moment to focus consciously on what you want to achieve before you begin each session.
This unique hypnotherapy DVD gives you a compelling and effective way to lose weight and overcome all problems connected with weight control.
Running time: 50 minutes
Warning:


This DVD contains flashing subliminal imagery and hypnotic graphics. It is safe, but must not be used in a moving vehicle or if you suffer from epilepsy, migraine or clinical depression. If you are unsure please consult your doctor.
* Disclaimer: Specific results are not guaranteed. Results may vary.
---
Share this Product